CITY PARKING GARAGE - AUTORIMESSA COMUNALE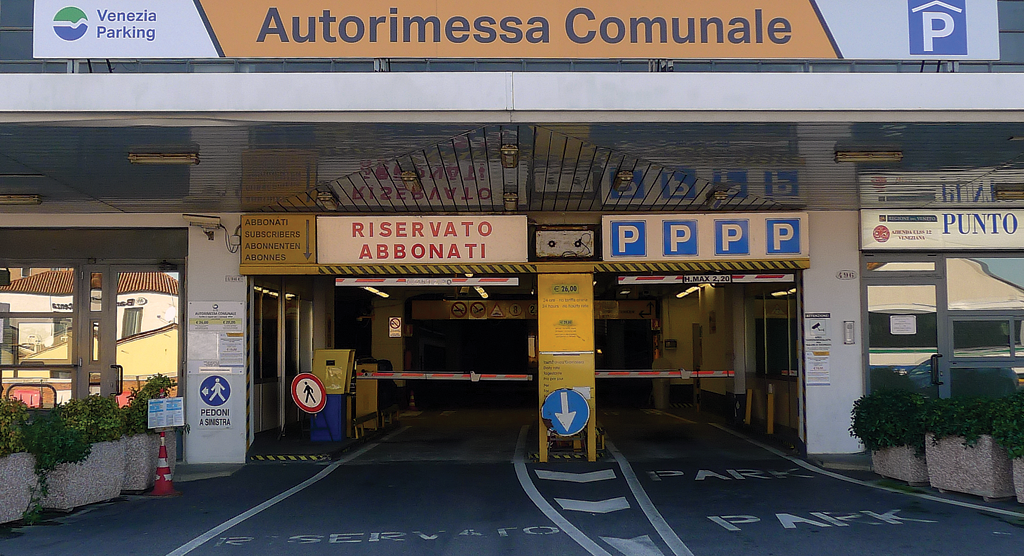 [GPS 45°26'19.75" N - 12°19'01.71" E]
With its 2,152 car spaces and 180 motorcycle spaces (spread out over 6 levels, with 10 parking areas and 2 terraces), the A.V.M. S.p.A. City Parking Garage is without a doubt the largest parking facility in Piazzale Roma (car terminal with the quickest the easiest access to the historic centre of Venice).
The shore terminals of all the public transport navigation lines (ACTV), for reaching any area in the city as well as the islands, are only a few metres from the parking garage.                                                                                  
PIAZZALE ROMA
Santa Croce 496
30135 - Venezia          
Tel. 041-2727301; +39 041-2727302 
Ticket Office: +39 041-27.27.307
The parking garage is open 24 hours a day 24, 365 days a year.
In 1998 the building was completely renovated and outfitted with an automated entry system with license plate reader and 200 closed circuit cameras, which, along with our personnel, provides protection and constant surveillance for all parking areas.
 
DAILY RATE - automobiles only [car height less or equal to 2.20 m.]
For every 24 hour period (cannot be divided)
Rates depend from the size of your car. In case you reserve a parking until 12.00 p.m. of the day before the date of your arrival, rates are discounted.    
RATES
Rates ON SITE
CAR SIZE
| | |
| --- | --- |
| Width less or equal to cm 185 |  € 26,00 |
| Width more than cm 185  |  € 29,00 |
Rates ON LINE
| | |
| --- | --- |
| CAR SIZE |   |
| Width less or equal to cm 185 |  € 23,40 |
| Width more than cm 185  |  € 26,10 |
NIGHT RATE Park ON LINE - Piazzale Roma (from 5pm to 5am)
This Ticket can be used ONLY if you park a car NOT HIGHER THAN  220CM from 5pm to 5am (the use cannot be divided).
Please note: if your stay exceed this period, you must pay the full rate
However, discounted rates are offered to the following customer categories:
HANDICAPPED INDIVIDUALS
(must have the relative legal identification tag issued by the local police, that must be presented upon arrival)
| | | |
| --- | --- | --- |
| PARKING DURATION (from the time of entering) | FARES | AVAIABLE SPACES |
| up to 12 hours | FREE PARKING | up to 14 cars |
| (more than 12 hours) up to 14 hours | 50% off the ordinary fare | at the same time |
| more than 14 hours | ordinary fare (valid for 24 hours after the 13th hour) | inside the garage |
The booking shall be made at least 24 hours before the time of arrival:  https://preparco.avmspa.it
4 car spaces (out of a total of 14 spaces for disabled people) may be booked, the remainder is assigned according to their availability upon guest arrival. For details see the attached statement called CITY GARAGE – REDUCION FOR DISABLED (reservations must be accompanied with an attached informational notice concerning the protection of personal data for transportation services or else those seeking to park their vehicles will be denied a parking place (arranged by AVM S.p.A as per European rule 679/16); this must be duly signed to indicate confirmation of having read the said rule and to grant consent for the treatment of this special category of personal data)
 
CUSTOMERS OF THE VENICE CASINO
The customers of the Venice Casino - from monday to friday (festive excluded) - are guaranteed  a parking space at the discounted rate of € 10.00 (the parking garage entrance ticket must be validated at one of the Casino cash desks). 
Please note: Payment for the parking must be made before picking up your car through presentation of the ticket at the parking garage office. If an invoice is required, inform the office staff of this fact before making payment.
RESERVING A PARKING SPACE
To ensure availability, it's recommended that you reserve a parking space.  
The reservation has to be made on line (payment with credit card) until 12.00 pm of the day before the date of your arrival 
Besides having a reserved parking places, you will be allowed to access the garage using the lane reserved for pass holders (avoid any entry queues) and you get a reduction of rate. 
For group of cars and for events (marriage, conferences, etc.) you have to sand an e-mail with the request to ufficioutenti@avmspa.it.
For service vehicles for the disabled, the reservation has to be made by fax at +39-041-27.27.313 (indicating name. surname, license plate number, along expected arrival and departure date).
USER REGULATIONS
Listed below are the rules which are increasingly yet unknowingly not being respected by our customers:
- The automobile must be left open and able to be moved (this rule is for security reasons only)
- The automobile must only be parked by the user, unless indicated otherwise by the Management. Upon request, the parking attendants will help with these operations, always under the direct responsibility of the user
- In case of an accident, the user must immediately inform the Management. Any moving of the vehicle before communication to Management releases AVM from any responsibility with regard to damages.
- AVM S.p.A is not responsible for any damage caused from single car accidents (if requested, the customer    can eventually provide any evidence regarding the circumstances)
- The Management of the parking garage is only responsible for the vehicles themselves and not any    accessories (including removable car stereos) or other mobile objects left in the vehicle
Please note: No pressurised or gaseous fuel powered vehicles are allowed to park in Parking area -1, except those fitted with a safety  system complying with European regulation ECE/UN 67/01 (the wording must appear on the vehicle registration document), which, as provided by the regulation, can park in underground, public, private, closed or open garages.